INT-ZPL 00S reeks Elmboog Koaksiale Vroulike Blombodem M7 Grootte Connector
produk Detail
produk Tags
S-reeks elmboog koaksiale verbindings het hoofkenmerke soos volg:
1. Push-Pull self-latching system.
2. koaksiale (50Ω), Unipole vroulike kontakte.
3. M7 grootte, 00S reeks miniatuur verbindings.
4. Maklik om te gebruik, betroubare prestasie.
5. 360 ° keuring vir volle EMC afskerming.
Tegniese eienskappe:
Meganiese en klimaat
1. Endurance:> 5000 paring siklusse.
2. Humiditeit: tot 95% op 60 ºC.
3. Temperatuurbereik: -40 ºC, 250 ºC.
4. Weerstand teen vibrasie: 15 g [10 HZ-2000HZ].
5. Skok weerstand: 100 g, 6 MS.
6. sout sproei roes toets:> 48h.
7. beskerming indeks (gepaar): IP 50.
Koaksiale elmboog socket product size: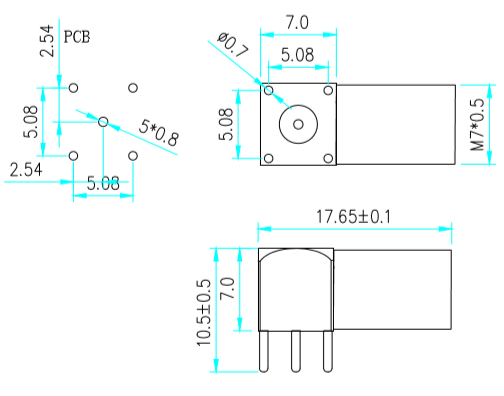 Let wel: All our part number begin with" INT-", for example: INT- ZPL.00.250.NTN
Bedryf Aansoek:
Dit connector is wyd gebruik word in toets en meting, nywerheid beheer, AV stelsel , Broadcast en kommunikasie, Audio, Video multimedia en ander velde.
INTE-outomatiesehet 'n stuk oplossing vir die meeste vorme van aansoeke, insluitend uitsending kameras en beheer toerusting, klank toerusting, radio mikrofoon en mikrogolf transmissie vir Buite Uitsending (OB), ateljees, teater, televisie, radio, teater en musiek.
Dedicated to strict quality manage and consistent research, our experienced team are generally available to discuss your specifications. INTE-AUTO can offer 00S series female elbow coaxial socket circular connector, 50Ω S connector, which it can alternative S series connectors. Smallest M7 size, we called mini coaxial connectors.
We price your inquiry, For more details, please get in touch with us, we will reply you ASAP.
If you also need a coaxial cable with connectors solution, do not hesitate to talk with us.
---
---