INT-ZPL 00s sıra Elbow koaksial Qadın depo M7 Size Connector
Product Ətraflı
Product Tags
S seriyası dirsək koaksial bağlayıcı aşağıdakılardır: əsas xüsusiyyətləri
1. Push-Pull self-latching system.
2. koaksial (50Ω) Unipole qadın əlaqələr.
3. M7 ölçüsü, 00s seriyası miniatür bağlayıcı.
İstifadə 4. rahatlığı, Etibarlı çıxışları.
Tam EMC shielding üçün seçim 5. 360 °.
Texniki xüsusiyyətləri:
Maşın və iqlim
1. Dayanma:> 5000 çiftleşme dövründən.
2. Rütubət: 60 º C 95% -ə qədər.
3. temperatur intervalında: -40 º C, +250 º C.
Vibrasiya 4. Resistance: 15 g [10 HZ-2000HZ].
5. Shock müqavimət: 100 g, 6 MS.
6. Salt sprey korroziya test:> 48h.
7. Müdafiə indeksi (evləndirilən): IP 50.
koaksial dirsək socket product size: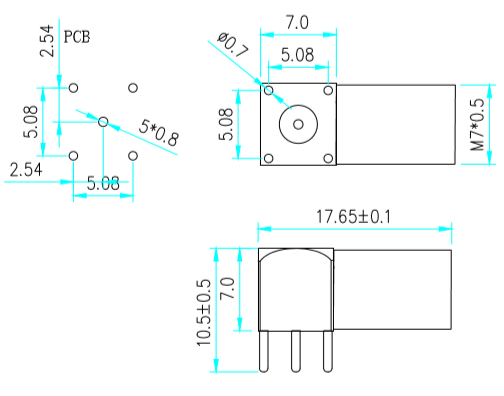 Qeyd: All our part number begin with" INT-", for example: INT- ZPL.00.250.NTN
Sənaye Uygulama:
Bu bağlayıcı geniş test və ölçü, sənaye nəzarət AV sistemi istifadə olunur , Broadcast və rabitə, Audio, Video multimedia və digər sahələrdə.
INTE-AUTO yayım kameralar və nəzarət avadanlığı, audio avadanlıq, radio mikrofon və Outside Broadcast (OB) üçün mikrodalğalı ötürülməsi, studiyaları, kino, televiziya, radio, teatr və musiqi, o cümlədən proqram çox növləri üçün bir bağlayıcı həll var.
Dedicated to strict quality manage and consistent research, our experienced team are generally available to discuss your specifications. INTE-AUTO can offer 00S series female elbow coaxial socket circular connector, 50Ω S connector, which it can alternative S series connectors. Smallest M7 size, we called mini coaxial connectors.
We price your inquiry, For more details, please get in touch with us, we will reply you ASAP.
If you also need a coaxial cable with connectors solution, do not hesitate to talk with us.
---
---