INT-ZPL 00S serija Elbow koaksijalni Female Receptacle M7 Veličina konektora
Detalji o proizvodu
oznake proizvoda
S serije lakat koaksijalnih konektora imaju glavne karakteristike kako slijedi:
1. Push-Pull self-latching system.
2. koaksijalni (50Ω), Unipole ženskim kontaktima.
3. M7 veličine, 00S serije minijaturnih konektora.
4. Jednostavnost upotrebe, pouzdane performanse.
5. 360 ° screening za punu EMC zaštita.
Tehničke karakteristike:
Mehanički i Klimatski
1. Izdržljivost:> 5000 ciklusa parenja.
2. Vlažnost: do 95% na 60 ° C.
3. Raspon temperature: -40 ° C, 250 ° C.
4. Otpornost na vibracije: 15 g [10 HZ-2000Hz].
Otpornost na 5. šok: 100 g, 6 MS.
6. Salt test korozije mlaza:> 48h.
Indeks 7. Zaštita (uparen): IP 50.
koaksijalni lakat utičnica product size: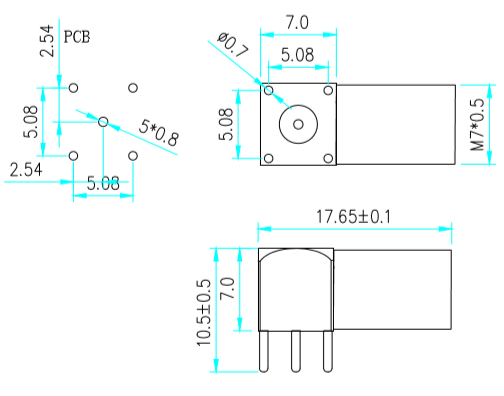 Napomena: All our part number begin with" INT-", for example: INT- ZPL.00.250.NTN
Industriji Primjena:
Ovaj konektor je naširoko koristi u testu i mjerenje, kontrolu industrije, AV sistem , Broadcast i komunikacija, audio i video multimedijalnim i drugim oblastima.
INTE-AUTO ima priključak rješenje za većinu vrste aplikacija, uključujući emitiranje kamere i oprema za kontrolu, audio oprema, radio mikrofon i mikrovalna pećnica transmisija za Outside Broadcast (OB), studija, kino, televizija, radio, pozorište i muzika.
Dedicated to strict quality manage and consistent research, our experienced team are generally available to discuss your specifications. INTE-AUTO can offer 00S series female elbow coaxial socket circular connector, 50Ω S connector, which it can alternative S series connectors. Smallest M7 size, we called mini coaxial connectors.
We price your inquiry, For more details, please get in touch with us, we will reply you ASAP.
If you also need a coaxial cable with connectors solution, do not hesitate to talk with us.
---
---