Int-ZPL 00S serye siko Coaxial Female sudlanan M7 Size pagsumpay
Detalye Product
Product Tags
S serye siko coaxial connectors adunay nag-unang bahin sa mosunod:
1. Push-Pull self-latching system.
2. coaxial (50Ω), Unipole babaye nga kontak.
3. M7 gidak-on, 00S sunod-sunod nga miniature connectors.
4. Kasayon sa paggamit, Kasaligang pasundayag.
5. 360 ° screening alang sa bug-os nga EMC shielding.
Technical kinaiya:
Mechanical ug Climatically
1. pagbatas:> 5000 nag-upa siklo.
2. humidity: sa 95% sa 60 ºC.
3. temperatura range: -40 ºC, +250 ºC.
4. Pagbatok sa uyog: 15 g [10 Hz-2000HZ].
5. Shock pagbatok: 100 g, 6 MS.
6. Salt spray pagkapudpod test:> 48h.
7. Protection index (nanamkon): IP 50.
Coaxial siko suksokanang product size: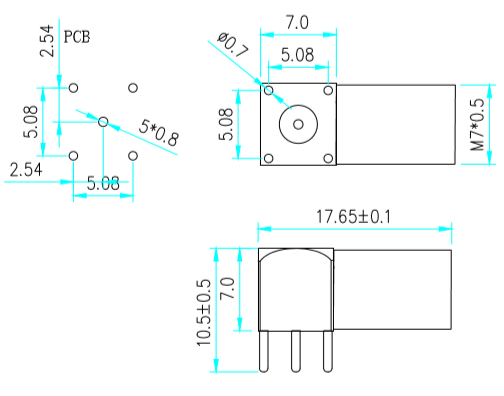 Mubo nga sulat: All our part number begin with" INT-", for example: INT- ZPL.00.250.NTN
Industry Application:
connector Kini nga kaylap nga gigamit sa pagsulay ug sa sukod, industriya control, AV sistema , Broadcast ug komunikasyon, Audio, Video multimedia ug uban pang mga kaumahan.
INTE-AUTO adunay usa ka connector nga solusyon alang sa kadaghanan sa mga matang sa mga aplikasyon lakip na ang broadcast cameras ug pagdumala ekipo, audio ekipo, radyo mikropono ug microwave transmission sa gawas Sibya (OB), mga estudyo, sinehan, telebisyon, radyo, teatro ug musika.
Dedicated to strict quality manage and consistent research, our experienced team are generally available to discuss your specifications. INTE-AUTO can offer 00S series female elbow coaxial socket circular connector, 50Ω S connector, which it can alternative S series connectors. Smallest M7 size, we called mini coaxial connectors.
We price your inquiry, For more details, please get in touch with us, we will reply you ASAP.
If you also need a coaxial cable with connectors solution, do not hesitate to talk with us.
---
---