BERINI-ZPL 00s seria Sfida Coaxial Female recipiënt M7 lînia Size
Detail prodottu
Tags prodottu
Seria S ovitu female coaxial hannu carattiristichi di lu siguenti:
1. Push-Pull self-latching system.
2. coaxial (50Ω), Unipole feminile cuntatti.
3. taglia M7, 00s female seria miniatura.
4. faciulità di usu, palchi accéder.
5. 360 ° prughjizzioni di piena gas EMC.
caratteristiche tecnica:
Scissors è Climatically
1. Endurance:> 5000 ciculu season.
2. Umidità: fin'à 95% in 60 c.
3. catalogu Temperatura: -40 c, +250 c.
4. resistenza à polzu: 15 cunzunantali [10 Hz-2000HZ].
Resistenza 5. Cuccurucucu: 100 g, 6 MS.
6. Salt spray test currusioni:> 48h.
Index 7. Protection (mated): IP 50.
Coaxial ovitu incavo product size: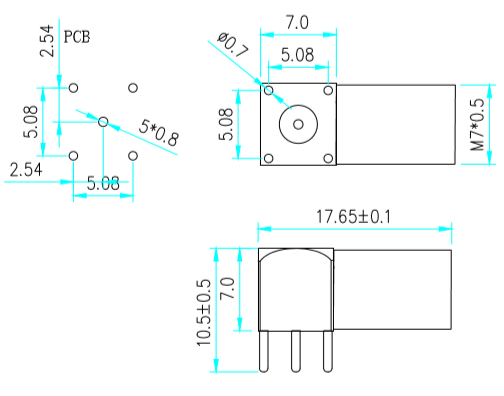 Nota: All our part number begin with" INT-", for example: INT- ZPL.00.250.NTN
Industria Candidatura:
Stu lînia hè anchiamènti usatu in testu è misura, u cuntrollu industria, sistemu AV , Broadcast è cumunicazioni, Audio, Video mediateca è altri campi.
Int-AUTO hà una suluzione lînia di più tippi di appiicazioni cumpresi Parrucchieri diffusione è usate lu cuntrollu, vagliatura audio, ciamatu radiu è trasmissioni micru di Outside Broadcast (mit), frutto, sinemà, televisione, radiu, teatru è musica.
Dedicated to strict quality manage and consistent research, our experienced team are generally available to discuss your specifications. INTE-AUTO can offer 00S series female elbow coaxial socket circular connector, 50Ω S connector, which it can alternative S series connectors. Smallest M7 size, we called mini coaxial connectors.
We price your inquiry, For more details, please get in touch with us, we will reply you ASAP.
If you also need a coaxial cable with connectors solution, do not hesitate to talk with us.
---
---