INT-ZPL 00S seeria Elbow Coaxial Naine pistikupesa M7 Suurus Connector
toote Detail
toote märksõnad
S-seeria küünarnuki koaksiaalühendused on peamised omadused järgmiselt:
1. Push-Pull self-latching system.
2. koaksiaalkaabel (50Ω), unipole naine kontaktid.
3. M7 suurus, 00S seeria miniatuursed ühendused.
4. Lihtne kasutada, usaldusväärne etendused.
5. 360 ° skriining täieliku EMC varjestus.
Tehnilised omadused:
Mehaanilised ja klimaatiliselt
1. Vastupidavus:> 5000 paaritumist tsüklit.
2. Niiskus: kuni 95% temperatuuril 60 ° C.
3. Temperatuurivahemik: -40 ° C, 250 ° C.
4. vibratsioonitundlikkuse: 15 g [10 HZ-2000HZ].
5. Löögikindlus: 100 g, 6 MS.
6. Sool korrosioonikatseks:> 48h.
7. kaitse indeks (paaritatud): IP 50.
Coaxial küünarnuki pesa product size: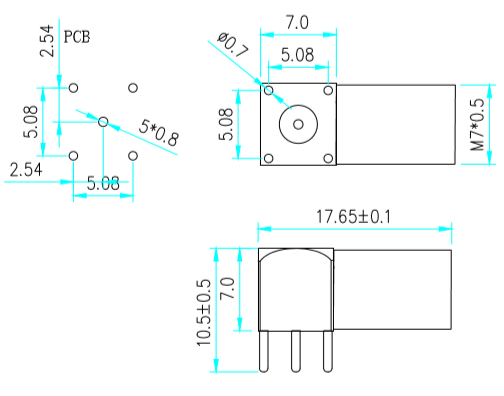 Märkus: All our part number begin with" INT-", for example: INT- ZPL.00.250.NTN
Tööstus Application:
See pistik on laialt kasutusel test ja mõõtmine, tööstuse kontrolli, AV süsteemi , ja edastada, Audio, Video multimeedia ja muudes valdkondades.
INTE-AUTO on pistik lahendus enamiku rakenduste sealhulgas teleülekandekaameratena ja kontrolli heliseadmed, raadio mikrofoni ja mikrolaine edastamise eest Väljaspool Broadcast (OB), stuudiod, kino, televisioon, raadio, teater ja muusika.
Dedicated to strict quality manage and consistent research, our experienced team are generally available to discuss your specifications. INTE-AUTO can offer 00S series female elbow coaxial socket circular connector, 50Ω S connector, which it can alternative S series connectors. Smallest M7 size, we called mini coaxial connectors.
We price your inquiry, For more details, please get in touch with us, we will reply you ASAP.
If you also need a coaxial cable with connectors solution, do not hesitate to talk with us.
---
---