INT-ZPL 00s serie Elbow ardazkide Emakumezkoen errezeptakulu M7 neurria Connector
Produktuen xehetasuna
Produktuen Tags
S serie ukondoa ardazkide konektoreak dute ezaugarri nagusiak honako hauek dira:
1. Push-Pull self-latching system.
2. ardazkide (50Ω), Unipole emakumezkoak kontaktuak.
3. M7 tamaina, 00s serie miniaturazko konektoreak.
4. erabilera erraza, fidagarria emanaldiak.
5. 360º osoa EMC estali emanaldia.
teknikoa ezaugarriak:
mekanikoa eta klimatikoa
1. Erresistentzia:> 5000 estaltzea zikloak.
2. Hezetasuna:% 95, gehienez 60 ºC-tan.
3. Tenperatura tartea: -40 ºC, +250 ºC.
4. bibrazio erresistentzia: 15 g [10 HZ-2000HZ].
5. Shock erresistentzia: 100 g, 6 MS.
6. Salt spray korrosioa proba:> 48h.
7. Babes indizea (mated): IP 50.
ardazkide ukondoa socket product size: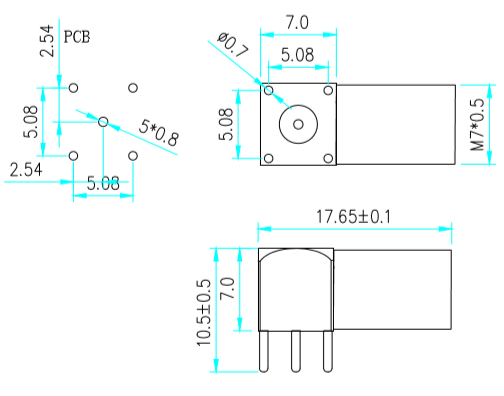 Oharra: All our part number begin with" INT-", for example: INT- ZPL.00.250.NTN
Industria Aplikazioa:
konektorea hau oso zabalduta test eta neurketa, industria kontrola, AV sistema erabiltzen da , Broadcast eta komunikazio, Audio, Video multimedia eta beste arlo.
INTE-AUTO konektorea aplikazio mota gehien difusio kamera eta kontrol-ekipoak, audio ekipamendu, irrati mikrofonoa eta mikrouhin kanpo Broadcast (OB) transmisioa, estudioak, zinema, telebista, irratia, antzerkia eta musika barne irtenbide bat du.
Dedicated to strict quality manage and consistent research, our experienced team are generally available to discuss your specifications. INTE-AUTO can offer 00S series female elbow coaxial socket circular connector, 50Ω S connector, which it can alternative S series connectors. Smallest M7 size, we called mini coaxial connectors.
We price your inquiry, For more details, please get in touch with us, we will reply you ASAP.
If you also need a coaxial cable with connectors solution, do not hesitate to talk with us.
---
Aurreko:
INT-ZPS 00s Elbow ardazkide Socket M7 Emakumezkoen Connector inprimatutako zirkuitu taula For
---