INT-ZPL 00s rige Elbow Coaxial Female receptacle M7 Grutte ferbinning
produkt Detail
produkt Tags
S rige elbow coaxial Anschlüsse hawwe wichtichste funksjes as folget:
1. Push-Pull self-latching system.
2. coaxial (50Ω), Unipole female kontakten.
3. M7 grutte, 00s rige miniatuur Anschlüsse.
4. Kapel fan gebrûk, Veilige optredens.
5. 360 ° trochljochtsjen foar folslein EMC shielding.
Technical skaaimerken:
Mechanical and Climatically
1. Endurance:> 5000 mating fytst.
2. Humidity: oant 95% op 60 ºC.
3. Temperatur berik: -40 ºC, +250 ºC.
4. Ferset yn trilling: 15 g [10 HZ-2000HZ].
5. Shock resistance: 100 g, 6 MS.
6. Salt spray corrosie test:> 48h.
7. Protection index (mated): IP 50.
Coaxial earmtakke socket product size: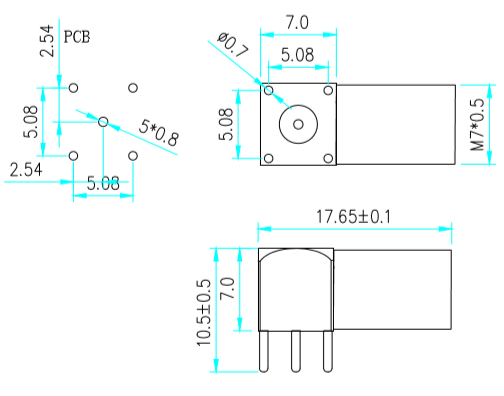 Tink derom: All our part number begin with" INT-", for example: INT- ZPL.00.250.NTN
Yndustry Applikaasje:
Dit Anschluss wurdt in soad brûkt yn de test en mjitting, yndustry kontrôle, AV systeem , Broadcast en kommunikaasje, Audio, Video multimedia en oare fjilden.
Inte-AUTOhat in Anschluss oplossing foar de measte soarten tapassings ynklusyf útstjoering kamera en kontrôle apparatuer, audio apparatuer, radio mikrofoan en magnetron trochjaan foar Outside Broadcast (OB), ateliers, bioskoop, tillevyzje, radio, teater en muzyk.
Dedicated to strict quality manage and consistent research, our experienced team are generally available to discuss your specifications. INTE-AUTO can offer 00S series female elbow coaxial socket circular connector, 50Ω S connector, which it can alternative S series connectors. Smallest M7 size, we called mini coaxial connectors.
We price your inquiry, For more details, please get in touch with us, we will reply you ASAP.
If you also need a coaxial cable with connectors solution, do not hesitate to talk with us.
---
---