serie INT-ZPL 00s Elbow Coaxial Feminino receptáculo M7 tamaño do conector
Detalles do produto
Etiquetas de produtos
Serie S de cóbado conectores coaxiais teñen características principais as seguintes:
1. Push-Pull self-latching system.
2. coaxial (50Ω), unipole femia contactos.
3. Tamaño M7, 00s conectores serie en miniatura.
4. Facilidade de uso, performances de confianza.
5. 360 ° seguimento para Blindaxe completa EMC.
características técnicas:
mecánicos e climáticamente
1. Endurance:> 5000 ciclos de acasalamento.
2. Humidade: ata o 95%, a 60 ºC.
3. Rango de temperatura: -40 ° C, 250 º C.
4. A resistencia á vibración: 15 g [10 HZ-2000Hz].
5. resistencia de choque: 100 g, 6 MS.
6. Sal proba de corrosión de pulverización:> 48h.
Índice 7. Protección (axustado): IP 50.
Coaxial cóbado soquete product size: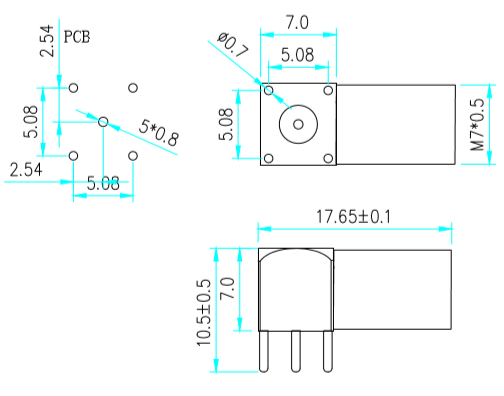 Nota: All our part number begin with" INT-", for example: INT- ZPL.00.250.NTN
Aplicación industrial:
Este conector é amplamente utilizado en proba e medida, control industria, sistema AV en directo, transmisión e comunicación, audio, multimedia de vídeo e outros campos.
INTE-AUTO ten unha solución conector para a maioría dos tipos de aplicacións, incluíndo cámaras de transmisión e equipos de control, equipos de audio, micrófono de radio e de transmisión de microondas para a transmisión externa (OB), estudios, cine, televisión, radio, teatro e música.
Dedicated to strict quality manage and consistent research, our experienced team are generally available to discuss your specifications. INTE-AUTO can offer 00S series female elbow coaxial socket circular connector, 50Ω S connector, which it can alternative S series connectors. Smallest M7 size, we called mini coaxial connectors.
We price your inquiry, For more details, please get in touch with us, we will reply you ASAP.
If you also need a coaxial cable with connectors solution, do not hesitate to talk with us.
---
---