Int-ZPL 00S jerin Elbow Coaxial Female matattarã M7 Girman Connector
samfurin Detail
samfurin Tags
S jerin gwiwar hannu coaxial haši da babban fasali kamar haka:
1. Push-Pull self-latching system.
2. coaxial (50Ω), Unipole mace lambobi.
3. M7 size, 00S jerin dada haɗawar.
4. sauƙi amfani, tamkar gwal wasanni.
5. 360 ° nunawa ga cikakken EMC da tsare.
fasaha da halaye:
injuna da Climatically
1. Jimrewa:> 5000 ma'abota hawan keke.
2. zafi: up to 95% a 60 ºC.
3. Temperatuur range: -40 ºC, +250 ºC.
4. Resistance zuwa vibration: 15 g [10 Hz-2000HZ].
5. Shock juriya: 100 g, 6 MS.
6. Salt fesa lalata gwajin:> 48h.
7. Kariya fihirisar (barbara): IP 50.
Coaxial gwiwar hannu soket product size: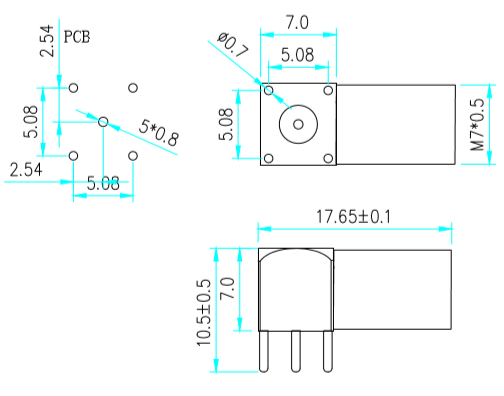 Lura: All our part number begin with" INT-", for example: INT- ZPL.00.250.NTN
Industry Application:
Wannan connector ne yadu amfani a gwajin da kuma ji, masana'antu iko, AV tsarin , Watsa labarai da sadarwa, Audio, Video multimedia da kuma sauran filayen.
inte-Autoyana da wani connector bayani ga mafi iri aikace-aikace ciki har da watsa shirye-shirye kyamarori da kuma kula da kayan aiki, audio kayan aiki, rediyo Reno da obin na lantarki watsa for waje Watsa (Likitan mata), Studios, cinema, talabijin, rediyo, wasan kwaikwayo da kuma music.
Dedicated to strict quality manage and consistent research, our experienced team are generally available to discuss your specifications. INTE-AUTO can offer 00S series female elbow coaxial socket circular connector, 50Ω S connector, which it can alternative S series connectors. Smallest M7 size, we called mini coaxial connectors.
We price your inquiry, For more details, please get in touch with us, we will reply you ASAP.
If you also need a coaxial cable with connectors solution, do not hesitate to talk with us.
---
---