INT-ZPL 00s seri koud Kab Fi Plòg M7 Kantite moun ki Connector
एस श्रृंखला manch rad koud bra konektè kowaksyal : मुख्य विशेषताएं इस प्रकार है
1. Push-Pull self-latching system.
2. kowaksyal (50Ω), Unipole fi kontak.
3. M7 gwosè, 00s seri Miniature konektè.
4. Fasilite nan itilize, pèfòmans serye.
5. 360 ° tès depistaj pou plen EMC pwoteksyon.
Karakteristik teknik:
mekanik ak Climatic
1. Andirans:> 5000 sik kwazman.
2. Imidite: jiska 95% nan 60 º C.
3. Tanperati seri: -40 º C, +250 º C.
4. Rezistans nan Vibration: 15 g [10 HZ-2000HZ].
Rezistans 5. chòk: 100 g, 6 MS.
6. Sèl tès espre korozyon:> 48h.
Endèks 7. Pwoteksyon (kwaze): IP 50.
Kab koud priz product size: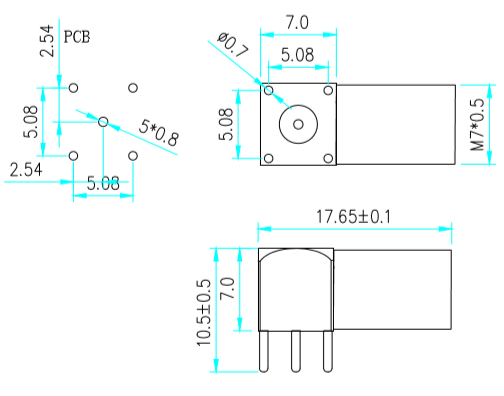 Remak: All our part number begin with" INT-", for example: INT- ZPL.00.250.NTN
Aplikasyon Industry:
Sa a se Connector lajman ki itilize nan tès yo ak mezi, kontwòl, endistri yo, AV sistèm , Emisyon ak kominikasyon, Odyo, miltimedya Videyo ak jaden yo ak lòt.
INTE-AUTO gen yon solisyon Connector pou pifò kalite aplikasyon ki gen ladan kamera difizyon ak ekipman kontwòl, ekipman odyo, mikwofòn radyo ak transmisyon mikwo ond pou Deyò Emisyon (OB), estidyo, sinema, televizyon, radyo, teyat ak mizik.
Dedicated to strict quality manage and consistent research, our experienced team are generally available to discuss your specifications. INTE-AUTO can offer 00S series female elbow coaxial socket circular connector, 50Ω S connector, which it can alternative S series connectors. Smallest M7 size, we called mini coaxial connectors.
We price your inquiry, For more details, please get in touch with us, we will reply you ASAP.
If you also need a coaxial cable with connectors solution, do not hesitate to talk with us.
---
---