INT-ZPL 00s röð Elbow Coaxial Female hirslunni M7 Stærð Connector
S röð olnboga coax tengi með helstu eiginleika sem hér segir:
1. Push-Pull self-latching system.
2. coax (50Ω), Unipole kvenkyns tengiliði.
3. M7 stærð, 00s röð litlu tengin.
4. Auðveld notkun, áreiðanlegur sýningar.
5. 360 ° skimað er eftir fulla EMC verja.
Tæknilega eiginleika:
Aflfræðilegir og climatically
1. Þrek:> 5000 æxlunartegunda, hringrás.
2. Raki: allt að 95% á 60 ° C.
3. Hiti á bilinu: -40 ° C, 250 ° C.
4. Resistance titrun: 15 g [10 HZ-2000HZ].
5. lost mótstöðu: 100 g, 6 MS.
6. Salt úða tæringu próf:> 48h.
7. Verndun vísitölu (félagi): IP 50.
Coaxial olnboga fals product size: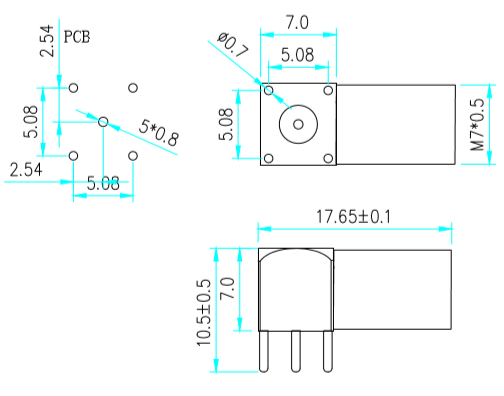 Ath: All our part number begin with" INT-", for example: INT- ZPL.00.250.NTN
Iðnaður Umsókn:
Þessi tengi er mikið notað í próf og mælingar, iðnaður eftirlit, AV kerfi , Broadcast og samskipti, Audio, Video margmiðlun og öðrum sviðum.
inte farartækihefur tengi lausn fyrir flestar gerðir af forritum þ.mt myndavél útvarpsefni og stýribúnaður, hljómflutningstækjum, útvarp hljóðnema og örbylgjuofn sendingu fyrir utan Broadcast (OB), vinnustofur, kvikmyndahús, sjónvarp, útvarp, leikhús og tónlist.
Dedicated to strict quality manage and consistent research, our experienced team are generally available to discuss your specifications. INTE-AUTO can offer 00S series female elbow coaxial socket circular connector, 50Ω S connector, which it can alternative S series connectors. Smallest M7 size, we called mini coaxial connectors.
We price your inquiry, For more details, please get in touch with us, we will reply you ASAP.
If you also need a coaxial cable with connectors solution, do not hesitate to talk with us.
---
---