series INT-ZPL 00S Elbow coaxial Female Receptacle M7 Size Connector
Detail Product
Tags Product
Series S elbow connectors coaxial xwedî taybetmendiyên sereke wiha ne:
1. Push-Pull self-latching system.
2. coaxial (50Ω), Unipole têkiliyên jin.
3. size M7, 00S connectors series xwebixwe.
4. li gel bikaranîna performansa Reliable.
5. 360 ° nīžandana bo p'er full EMC.
taybetmendiyên teknîkî:
Mechanical û Climatically
1. Endurance:> 5000 cycles mating.
2. Humidity: up to 95% li 60 ºC.
3. range germahiyê: -40 ºC, +250 ºC.
4. Berxwedanê vibration: 15 g [10 HZ-2000HZ].
Berxwedana 5. Shock: 100 g, 6 MS.
6. Salt test spray korozyonê:> 48h.
Index 7. Parastina (salî): IP 50.
coaxial elbow soket product size: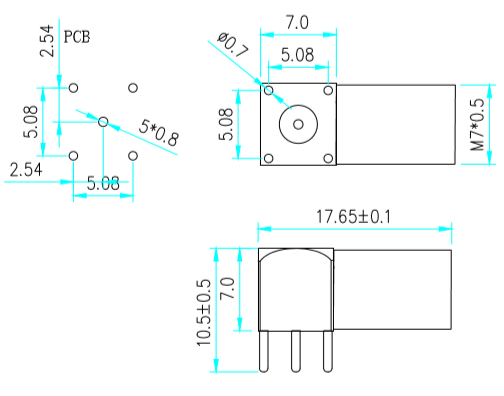 Nîşe: All our part number begin with" INT-", for example: INT- ZPL.00.250.NTN
Application Industry:
Ev connector edî di test û pîvandinê de, kontrola pîşesazî, sîstema AV bikaranîn , Broadcast û ragihandinê, Audio, multimedia Video û warên din.
Inte-AUTO heye çareseriya connector ji bo piranîya cureyên pêkanînên di nav wan kamerayan bi weşana û alavên kontrolkirina, dîmen, Ahmet Kaya, radyo û ji nifşekî mîkro bo Broadcast Kurd (OB), studyoyên, sînema, televizyon, radyo, şano û mûzîkê.
Dedicated to strict quality manage and consistent research, our experienced team are generally available to discuss your specifications. INTE-AUTO can offer 00S series female elbow coaxial socket circular connector, 50Ω S connector, which it can alternative S series connectors. Smallest M7 size, we called mini coaxial connectors.
We price your inquiry, For more details, please get in touch with us, we will reply you ASAP.
If you also need a coaxial cable with connectors solution, do not hesitate to talk with us.
---
---