Int-M7, Receptaculum ZPL 00s serie Cubitus Coaxial Male Location Connector
නිෂ්පාදන විස්තර
නිෂ්පාදන ඇමිණුම්
S seriei cubiti coaxial connexiones in marisque, ut sequitur,
1. Push-Pull self-latching system.
2. coaxial (50Ω), femina Unipole contactus.
3. M7 mole, 00s parvam seriem connectors.
4. Otium of usus PRAEIUDICATUS mererent.
5. CCCLX ° protegendo enim protegit EMC plena.
Technical sunt consideranda:
Mechanica et climatically
Julius Caesar 1.:> (V) coitu superveniunt conuersione recurrentium.
2. Umor usque ad XCV% a LX ºC.
3. range Frigus Venti: -40 ºC: CCL ºC.
4. Resistentia ad tremor: XV g [X-HZ 2000HZ].
5. Mass resistentia immunibus: C g, VI MS.
6. aspergine maris ærugo test:> 48h.
7. Index protectionum Index (quod iuncta impari) IP L.
Coaxial cubiti ostium tabernaculi product size: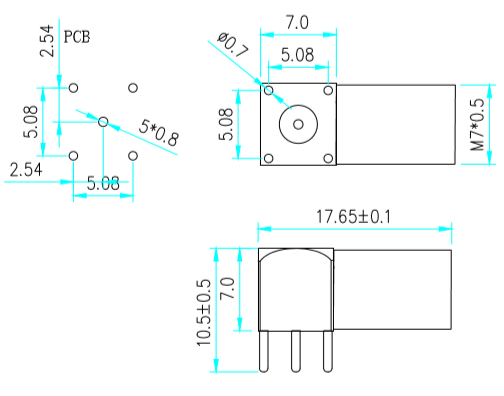 Nota All our part number begin with" INT-", for example: INT- ZPL.00.250.NTN
Application industria,
Hoc est late usus est in test COPULATRIX et mensura imperium industria, W. ratio, Broadcast et communicationis, Audio, multimedia Video et alios agros.
inte auto-habet ad plurima genera iungo solution applications inter cameras et passim apparatu potestate, audio apparatu, radio Proin tortor ligula, facilisis ac communicativum et extra Iaci (OB), studiosi, cinematographico, televisionem, radio, theatrum et musica.
Dedicated to strict quality manage and consistent research, our experienced team are generally available to discuss your specifications. INTE-AUTO can offer 00S series female elbow coaxial socket circular connector, 50Ω S connector, which it can alternative S series connectors. Smallest M7 size, we called mini coaxial connectors.
We price your inquiry, For more details, please get in touch with us, we will reply you ASAP.
If you also need a coaxial cable with connectors solution, do not hesitate to talk with us.
---
---