INT-ZPL 00S andian-dahatsoratra ampy Receptacle kiho Coaxial M7 Size Connector
Product Detail
Product Tags
S andian-dahatsoratra kiho coaxial connectors manana endri-javatra lehibe toy izao manaraka izao:
1. Push-Pull self-latching system.
2. coaxial (50Ω), vehivavy Unipole Contacts.
3. M7 habeny, 00S andian-dahatsoratra connectors kely.
4. hanamaivana ny fampiasana, Azo Itokisana fampisehoana.
5. 360 ° fitiliana ho an'ny EMC feno fiarovana.
ara-teknika toetra:
Mechanical sy Climatically
1. fiaretana:> 5000 tsingerina manao firaisana.
2. Humidity: hatramin'ny 95% amin'ny 60 ºC.
3. Temperature isan-karazany: -40 ºC, +250 ºC.
4. Fanoherana ny hovitrovitra: 15 h [10 Hz-2000HZ].
5. dona fanoherana: 100 h, 6 MS.
6. Salt price harafesiny fitsapana:> 48h.
7. Fiarovana fanondroana (mated): IP 50.
Coaxial kiho faladiany product size: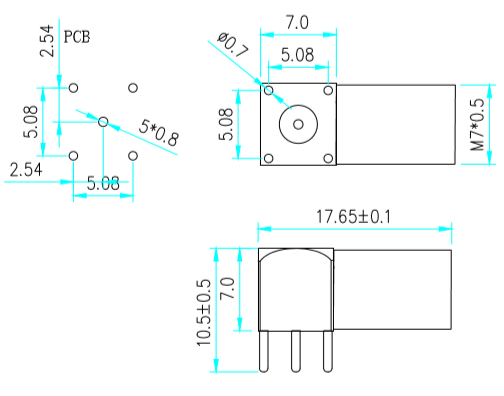 Fanamarihana: All our part number begin with" INT-", for example: INT- ZPL.00.250.NTN
Industry Fampiharana:
io no be mpampiasa connector amin'ny fitsapana sy ny fandrefesana, orinasa fanaraha-maso, AV rafitra, Broadcast sy ny fifandraisana, Audio, Video haino aman-jery sy ny saha.
INTE-AUTO manana connector vahaolana ho an'ny ankamaroan'ny karazana fandaharana ao anatin'izany ny fampiharana sy ny fanaraha-maso ny fitaovana fakan-tsary, raki-peo fitaovana, onjam-peo sy ny mikrô microwave fampitana ho an'ny Outside Fampitana (Ob), Studios, sinema, fahitalavitra, onjam-peo, teatra sy ny mozika.
Dedicated to strict quality manage and consistent research, our experienced team are generally available to discuss your specifications. INTE-AUTO can offer 00S series female elbow coaxial socket circular connector, 50Ω S connector, which it can alternative S series connectors. Smallest M7 size, we called mini coaxial connectors.
We price your inquiry, For more details, please get in touch with us, we will reply you ASAP.
If you also need a coaxial cable with connectors solution, do not hesitate to talk with us.
---
---