INT-ZPL 00S serie Elbow Coax Vrouwelijk Receptacle M7 Grootte Connector
Product detail
product Tags
S-serie elleboog coaxiale connectoren hebben belangrijke functies als volgt:
1. Push-Pull self-latching system.
2. coaxiaal (50Ω) unipool contactbussen.
3. M7 grootte, 00S serie miniatuur connectoren.
4. Gebruiksgemak, betrouwbare prestaties.
5. 360 ° screenen op volledige EMC afscherming.
Technische gegevens:
Mechanische en klimatologisch
1. Endurance:> 5000 mating cycli.
2. Vochtigheid: tot 95% bij 60 ºC.
3. Temperatuur -40 ° C, 250 ° C.
4. Weerstand tegen trillingen: 15 g [10 HZ-2000 Hz].
5. Schokbestendigheid: 100 g, 6 MS.
6. Zoutnevel corrosie-test:> 48 uur.
7. Bescherming index (gekoppeld): IP 50.
coaxiale elleboog socket product size: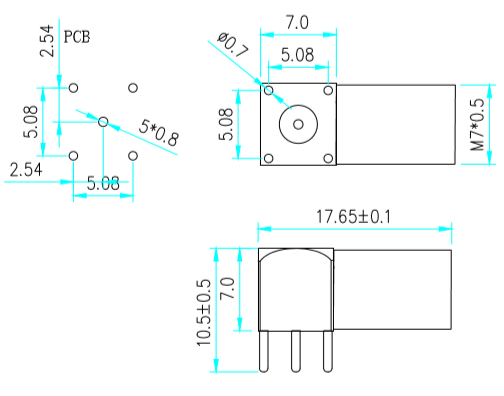 Let op: All our part number begin with" INT-", for example: INT- ZPL.00.250.NTN
Industrie Toepassing:
Deze aansluiting wordt veel gebruikt in testen en meten, industrie, AV systeem , Broadcast en communicatie, Audio, Video multimedia en andere gebieden.
INTE-AUTO heeft een connector voor de meeste soorten toepassingen zoals broadcast camera's en controle-apparatuur, audio-apparatuur, radio microfoon en een magnetron transmissie voor Outside Broadcast (OB), studio's, film, televisie, radio, theater en muziek.
Dedicated to strict quality manage and consistent research, our experienced team are generally available to discuss your specifications. INTE-AUTO can offer 00S series female elbow coaxial socket circular connector, 50Ω S connector, which it can alternative S series connectors. Smallest M7 size, we called mini coaxial connectors.
We price your inquiry, For more details, please get in touch with us, we will reply you ASAP.
If you also need a coaxial cable with connectors solution, do not hesitate to talk with us.
---
---