INT-ZPL 00S serien Elbow Koaksial Kvinne Beholder M7 Størrelse Connector
Produkt detalj
produkt~~POS=TRUNC
S-serien albue koaksialkontakter har hovedtrekkene som følger:
1. Push-Pull self-latching system.
2. koaksial (50Ω), Unipole hunnkontakter.
3. M7 størrelse, 00S-serien miniatyr kontakter.
4. Brukervennlighet, pålitelige forestillinger.
5. 360 ° screening for fullstendig EMC-skjerming.
Tekniske egenskaper:
Mekaniske og Klimatisk
1. Endurance:> 5000 parring sykluser.
2. Fuktighet: opp til 95% ved 60 ° C.
3. Temperaturområde: -40 ° C, 250 ° C.
4. Motstand mot vibrasjon: 15 g [10 HZ-2000HZ].
5. Støtmotstand: 100 g, 6 MS.
6. Salt dusjkorrosjonsprøv:> 48t.
7. Beskyttelse indeks (parret): IP 50.
Koaksial albue socket product size: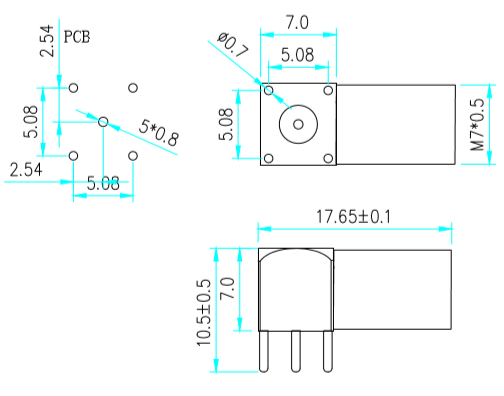 Merk: All our part number begin with" INT-", for example: INT- ZPL.00.250.NTN
Industri Søknad:
Denne kontakten er mye brukt i test og måling, kontroll industri, AV systemet , Broadcast og kommunikasjon, lyd, video multimedia og andre felt.
INTE-AUTO har kontakt løsning for de fleste typer applikasjoner, inkludert kringkastingskameraer og kontrollutstyr, lydutstyr, radio mikrofon og mikrobølgeovn overføring for Outside Broadcast (OB), studioer, kino, tv, radio, teater og musikk.
Dedicated to strict quality manage and consistent research, our experienced team are generally available to discuss your specifications. INTE-AUTO can offer 00S series female elbow coaxial socket circular connector, 50Ω S connector, which it can alternative S series connectors. Smallest M7 size, we called mini coaxial connectors.
We price your inquiry, For more details, please get in touch with us, we will reply you ASAP.
If you also need a coaxial cable with connectors solution, do not hesitate to talk with us.
---
---