Seria INT-ZPL 00s Cot coaxial Femeie Receptacul M7 Conector Dimensiune
Detaliile produsului
Tag-uri produs
Seria S conectori coaxial cot au caracteristici principale după cum urmează:
1. Push-Pull self-latching system.
2. coaxială (50Ω), unipol contacte de sex feminin.
3. dimensiunea M7, 00s conectori serie miniaturale.
4. Ușor de utilizat, performanțe de încredere.
5. 360 ° screening pentru ecranare EMC plin.
caracteristici tehnice:
mecanice și climaterică
1. Rezistență:> 5000 de cicluri de împerechere.
2. Umiditate: până la 95% la 60 ° C.
3. Interval de temperatură: -40 ° C, 250 ° C.
4. Rezistența la vibrații: 15 g [10 HZ-2000Hz].
Rezistență la șoc 5.: 100 g, 6 MS.
6. Sare de coroziune de pulverizare:> 48h.
7. indicele de protectie (împerecheat): IP 50.
Coaxial cot soclu product size: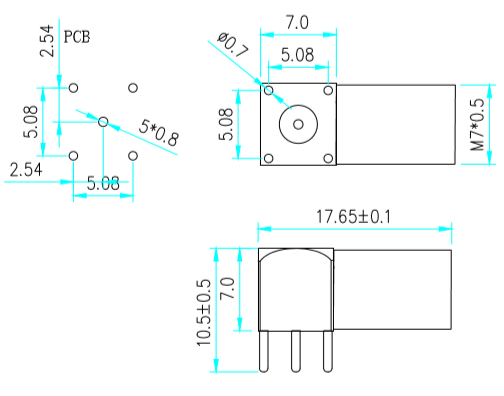 Notă: All our part number begin with" INT-", for example: INT- ZPL.00.250.NTN
Aplicație Industrie:
Acest conector este utilizat pe scară largă în testare și măsurare, de control industrie, sistem AV , Broadcast și comunicare, audio, video și multimedia alte domenii.
INTE-AUTO are o soluție conector pentru cele mai multe tipuri de aplicații , inclusiv camere de difuzare și echipamente de control, echipamente audio, microfon de radio și de transmisie prin microunde pentru Broadcast Exterioara (OB), studiouri, cinema, televiziune, radio, teatru și muzică.
Dedicated to strict quality manage and consistent research, our experienced team are generally available to discuss your specifications. INTE-AUTO can offer 00S series female elbow coaxial socket circular connector, 50Ω S connector, which it can alternative S series connectors. Smallest M7 size, we called mini coaxial connectors.
We price your inquiry, For more details, please get in touch with us, we will reply you ASAP.
If you also need a coaxial cable with connectors solution, do not hesitate to talk with us.
---
: Următoarea
INT-ZPL Cot 90 grade Femeie Solder Conector Socket
---