Int-ZPL 00S dzakatevedzana Elbow Coaxial Female Sekaiichi M7 Size Connector
Product Detail
Product Tags
S dzakatevedzana gokora coaxial connectors vane huru zviri sezvinotevera:
1. Push-Pull self-latching system.
2. coaxial (50Ω), Unipole hadzi kutaura navo.
3. M7 saizi, 00S akatevedzana vakasiyana connectors.
4. nyore, Reliable zvesimba.
5. 360 ° achivhara venguva EMC kudzivirirwa.
Technical unhu:
Mechanical uye Climatically
1. Kutsungirira:> 5000 kuberekesana zvinogara.
2. Humidity: kusvika 95% pa 60 ºC.
3. Temperature siyana: -40 ºC, +250 ºC.
4. Kupikiswa vibration: 15? G [10 HZ-2000HZ].
5. Shock nemishonga: 100 g, 6 MS.
6. Salt pfapfaidzo ngura bvunzo:> 48h.
7. Protection indekisi (mated): IP 50.
Coaxial kugokora panosangana product size: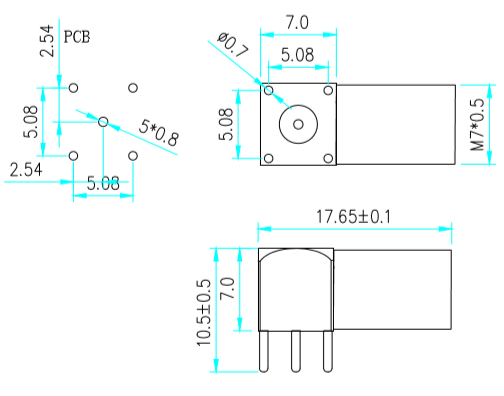 Cherechedza: All our part number begin with" INT-", for example: INT- ZPL.00.250.NTN
Industry Application:
connector iyi zvinowanzoshandiswa bvunzo uye dzakaenzana, maindasitiri kuzvidzora, AV hurongwa , yeNhau uye kukurukurirana, Audio, Video Multimedia nezvimwe minda.
INTE-AUTO ane connector mhinduro emhando dzakawanda mafomu kusanganisira nhepfenyuro makamera uye kudzora midziyo, Audio midziyo, redhiyo maikorofoni uye microwave hutachiwana kuti Kunze dzeShona (Ob), Studios, mabhaisikopo, terevhizheni, redhiyo, mafirimu uye mumhanzi.
Dedicated to strict quality manage and consistent research, our experienced team are generally available to discuss your specifications. INTE-AUTO can offer 00S series female elbow coaxial socket circular connector, 50Ω S connector, which it can alternative S series connectors. Smallest M7 size, we called mini coaxial connectors.
We price your inquiry, For more details, please get in touch with us, we will reply you ASAP.
If you also need a coaxial cable with connectors solution, do not hesitate to talk with us.
---
---