INT-ZPL 00S runtuyan siku Coaxial bikang ngawadahan M7 Ukuran Panyambung
jéntré produk
Tags produk
S runtuyan siku panyambungna coaxial gaduh fitur utama saperti kieu:
1. Push-Pull self-latching system.
2. coaxial (50Ω), kontak bikang Unipole.
3. Ukuran M7, 00S runtuyan miniatur panyambungna.
4. betah pamakéan, pintonan dipercaya.
5. 360 ° screening keur pinuh EMC shielding.
ciri Téknis:
Mechanical na Climatically
1. ketahanan:> 5000 siklus jalangan.
2. asor: nepi ka 95% dina 60 ºC.
3. rentang Suhu: -40 ºC, +250 ºC.
4. Résistansi kana Geter: 15 g [10 Hz-2000HZ].
Lalawanan 5. Manten: 100 g, 6 MS.
6. Salt test semprot korosi:> 48h.
Indéks 7. Protection (jalangan): IP 50.
Coaxial siku stop kontak product size: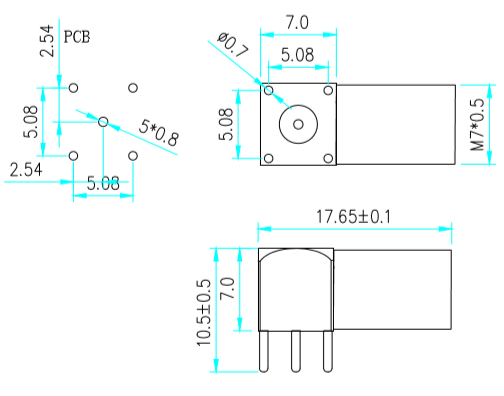 Catetan: All our part number begin with" INT-", for example: INT- ZPL.00.250.NTN
Aplikasi Industri:
konektor ieu loba dipaké dina uji sarta pangukuran, kontrol industri, sistem AV , Broadcast jeung komunikasi, audio, Video multimédia jeung widang lianna.
INTE-Otomatisboga solusi konektor keur paling rupa aplikasi kaasup kaméra siaran jeung alat kontrol, alat-alat audio, mikropon radio sarta pangiriman gelombang mikro keur luar Broadcast (OB), studio, bioskop, televisi, radio, téater jeung musik.
Dedicated to strict quality manage and consistent research, our experienced team are generally available to discuss your specifications. INTE-AUTO can offer 00S series female elbow coaxial socket circular connector, 50Ω S connector, which it can alternative S series connectors. Smallest M7 size, we called mini coaxial connectors.
We price your inquiry, For more details, please get in touch with us, we will reply you ASAP.
If you also need a coaxial cable with connectors solution, do not hesitate to talk with us.
---
---