INT-ZPL 00S sarja Kyynärpää Koaksiaalinen Laiteliittimet M7 Koko Liitin
Produktdetalj
produkt~~POS=TRUNC
S-serien armbåge koaxialkontakter har huvuddragen enligt följande:
1. Push-Pull self-latching system.
2. koaxial (50Ω) Unipole honkontakter.
3. M7 storlek, 00s serie miniatyrkontakter.
4. Användarvänlighet, Tillförlitliga föreställningar.
5. 360 ° screening för full EMC-avskärmning.
Tekniska egenskaper:
Mekaniska och Klimatmässigt
1. Uthållighets:> 5000 matningar.
2. Fuktighet: upp till 95% vid 60 ° C.
3. Temperaturområde: -40 ° C, 250 ° C.
4. Motståndskraft mot vibration: 15 g [10 HZ-2000HZ].
5. Stöttålighet: 100 g, 6 MS.
6. Saltspraykorrosionstest:> 48 timmar.
7. Skydd index (parad): IP 50.
Koaxial armbåge socket product size: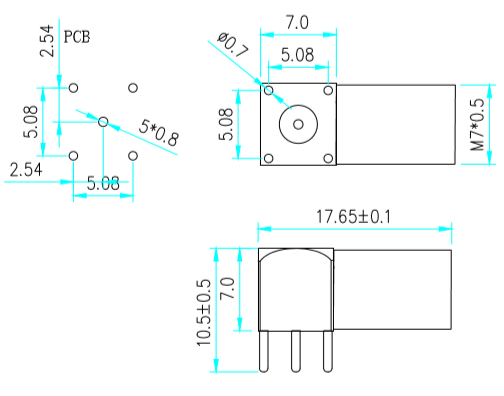 Notera: All our part number begin with" INT-", for example: INT- ZPL.00.250.NTN
Industriell tillämpning:
Denna kontakt används ofta i test och mätning, industri kontroll, AV-system , Broadcast och kommunikation, ljud, video multimedia och andra områden.
Inte-AUTOhar en kontakt lösning för de flesta typer av applikationer, inklusive TV-kameror och styrutrustning, ljudutrustning, radio mikrofon och mikrovågsugn transmission för Outside Broadcast (OB), studios, bio, tv, radio, teater och musik.
Dedicated to strict quality manage and consistent research, our experienced team are generally available to discuss your specifications. INTE-AUTO can offer 00S series female elbow coaxial socket circular connector, 50Ω S connector, which it can alternative S series connectors. Smallest M7 size, we called mini coaxial connectors.
We price your inquiry, For more details, please get in touch with us, we will reply you ASAP.
If you also need a coaxial cable with connectors solution, do not hesitate to talk with us.
---
---