INT-ZPL 00S series Elbow yafakwa Female isitya M7 Size Connector
Iinkcukacha Product
Tags Product
S series engqinibeni izihlanganisi yafakwa iimpawu eziphambili ngolu hlobo lulandelayo:
1. Push-Pull self-latching system.
2. ezinjalo (50Ω), Unipole ababhinqileyo abafowunelwa.
3. ubukhulu M7, 00S izihlanganisi series ezincinane.
4. usebenziso olulula, yeqonga ezinokuthenjwa.
5. 360 ° ukuvavanyela EMC uvikele ngokupheleleyo.
iimpawu Technical:
Mechanical kunye Climatically
1. Ukunyamezela:> 5000 imijikelo ukukhwela.
2. Ukufuma: ukuya kwi-95% kwi-60 ºC.
3. Uluhlu lobushushu: -40 ºC, +250 ºC.
4. Ukumelana lokungcangcazela: 15 g [10 Hz-2000HZ].
Ukumelana 5. Umothuko: 100 g, 6 MS.
6. Salt nokumelana spray uvavanyo:> 48h.
7. isalathiso Protection (yazala): IP 50.
yafakwa socket engqinibeni product size: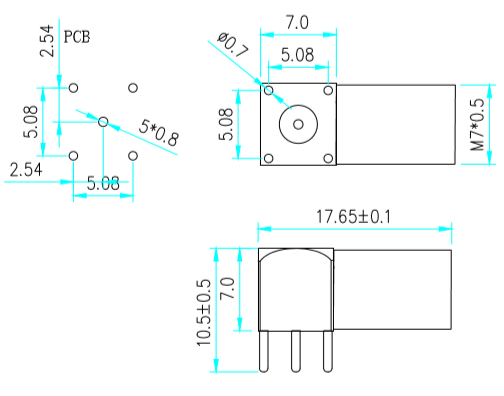 Qaphela: All our part number begin with" INT-", for example: INT- ZPL.00.250.NTN
Industry yesicelo:
Olu isinxibelelanisi sisetyenziswa ngokubanzi uvavanyo zomlinganiselo, ulawulo kushishino, inkqubo AV , Broadcast kunye nonxibelelwano, Audio, Video multimedia kunye nezinye iinkalo.
uxa-Autona isisombululo isinxibelelanisi iindidi ezininzi izicelo kuquka iikhamera zosasazo nezixhobo ulawulo, izixhobo zesandi, microphone koonomathotholo kunye transmission microwave ngenxa Broadcast Ngaphandle (OB), Studios, cinema, umabonwakude, unomathotholo, yeqonga nomculo.
Dedicated to strict quality manage and consistent research, our experienced team are generally available to discuss your specifications. INTE-AUTO can offer 00S series female elbow coaxial socket circular connector, 50Ω S connector, which it can alternative S series connectors. Smallest M7 size, we called mini coaxial connectors.
We price your inquiry, For more details, please get in touch with us, we will reply you ASAP.
If you also need a coaxial cable with connectors solution, do not hesitate to talk with us.
---
---